Warm-Hearted Observation

Sometimes a simple event can change the way you look at things, and that seems to be what happened to Donna Marie Merritt. In her new chapbook We Walk Together, Merritt remembers an encounter with a Jamaican man selling seashells on the beach.

You indulged in this
once-in-a-lifetime splurge
for your honeymoon
as you start your life
she says of herself in the opening poem, "Come yah!" Then, in an effective echo of these words, she says of the man:
You are his
chance-in-a-lifetime survival
for his family
as his life nears its end
Her dismissive response is to smile a "dental-plan smile" and stir her drink. "What have I done? / What have I become?" she asks, an insight that informs these poems, each one a small tale of compassion and empathy.

Accessible, direct, clear—there's no mistaking the message here. From the 12-year-old drug dealer seeking to deal with abandonment to the homeless man noticed more for his absence—"I like to think / He's home with wife"—than his presence, the subjects of these poems are the people we all too often ignore. Pay attention, Merritt seems to be saying, these people are people too.

A former teacher, Merritt is the author of four previous books of poetry and numerous children's books. Her warm-hearted observation of others—her fellow feeling for the disadvantaged and downtrodden—will repay the reader's attention.
....................................................................................................................................
Holiday Spirit

Raised an Episcopalian, married to a Muslim, I'm accustomed to down-playing Christmas. When our son was young and still at home, we had stockings and a tree—on top, a home-made star-and-crescent ornament and a dove of peace. Christmas is still a time of love and celebration for my husband and me. Last year, watching the neighborhood come alive with holiday decorations, I wrote the following poem, which was published in Blue Minaret:

December at the Muslim's House

Paper stars shine in the next-door window
red and green for Christmas, lacy white
snowflakes

At the table our neighbor and his wife ring in
the holidays, wrapping presents, cutting out
decorations

double-fold paper, snip out diamonds … fancy
shapes … scraps falling free, patterning
the floor

Their son practices his piano lessons
harking to herald angels, calling all
the faithful

No stars and carols in our house this month
no wreath or tree festooned with lights
but still

frost drew crystalline stars on our window
this morning, bringing icy sky down
to our room

bringing my Muslim man and me our own
winter nest for dreaming the oneness
of the world

Merry Christmas!

....................................................................................................................................

Mapping the Poem

Poets are word people first and foremost, but visual images can spark a poem or even provide a kind of roadmap for its development. Of course we often write about what we see, but I hadn't thought of using pictures to help shape the poem. North Carolina poet Jo Barbara Taylor has taken that concept to heart. Taylor, whose poem "Genevieve" and recipe for poppy seed cake were in

Joys of the Table

, recently sent me this essay on poem mapping:

Consider the Process

Not long ago, I signed up for a class in Mapping, Collage, and Writing. I write, and I've been experimenting in mixed media. I didn't know exactly what "mapping" was, but I was sure the class would be just what I was looking for. On the first day I toted the suggested art supplies in a margarita bucket. We didn't use them at all. Instead we wrote about why we wanted to be in the class and what we expected to learn. We discussed mapping, its purpose, and how to do it.

I toted my art supplies back home, but as with all happy accidents, the concept of mapping caught my attention. It turns out just about anything can be mapped if the cartographer is inventive. I chose to map the process of writing of a poem I had begun a couple of months before on a warm night under a supermoon. I remembered the steps that resulted in the poem and, through mapping, saw how one image led to another, how random things converged.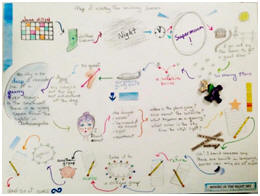 My map is a series of pictographs (stick people and dogs, a fairly round moon, the outline of a plane headed east) connected by a path of arrows. The charting process prompted me to really think about how a poem begins, the discovery that gets one started, how it pulls in other elements (images, sounds) that become their own catalysts. The visual display of how those elements emerged and fit together provided a few "aha" moments

For me, the value of mapping is seeing where I have been. It leads me to consider how I write—where poems begin, what the beginning conjures up, what words fit and what ones don't, the images, how I rearrange, how it all comes together. Understanding where I have been may show me where I might go.

Though I do not map every poem I write, I find that when I do, I make discoveries and am able to experience the poem on its different levels. Some of those discoveries send me in new directions. (Isn't all writing the result of going off on a tangent?) I hope that I'm unconsciously bringing awareness of process to everything I write even when I don't draw the arrows. Here's a little poem describing the process:
MAPPING

how to get from here to there
then farther

paths to explore
points on the compass roes
the legend of the trek

places you will see and see
find treasure
or kiss goodbye
Jo Barbara Taylor lives near Raleigh, NC. Her poems and academic writing have appeared in journals, magazines, anthologies and online; she leads poetry writing workshops through Duke Continuing Education. Of four chapbooks, the most recent, High Ground, was published by Main Street Rag, 2013. A full length collection is forthcoming in spring 2016 from Chatter House Press.
..................................................................................................................................../span>
The Wisdom of Laureates
When some 20 current and former poet laureates got together recently in Manassas, Virginia, ideas and inspiration were on the agenda. The occasion was "In the Company of Laureates," a symposium sponsored by the Poetry Society of Virginia and Write by the Rails, a Chapter of the Virginia Writers Club. My friend poet Jacqueine Jules sat in and noted these words of wisdom:
<![if !supportLists]><![endif]>
<![if !supportLists]>

·

<![endif]>
Heightened language that distils emotional truth—that's poetry.
<![if !supportLists]> · <![endif]> Poetry should suggest but not be ambiguous.
<![if !supportLists]> · <![endif]> Write what you are in the midst of. Words rub against each other in a new alchemy.
<![if !supportLists]> · <![endif]> Every poem is an experiment. You should always be figuring out something new, a new discovery.
..................................................................................................................................../span>
What Are You Writing?
Why should we get all the bylines? Submit your latest poem—just one for now—and we'll publish the poems we like best in an upcoming blog post. Simultaneous submissions are fine, but please let us know if the poem is accepted or published elsewhere. Send your poem, plus a few lines about yourself, in the body of an e-mail message to:
poetryeditor@RicherResourcesPublications.com